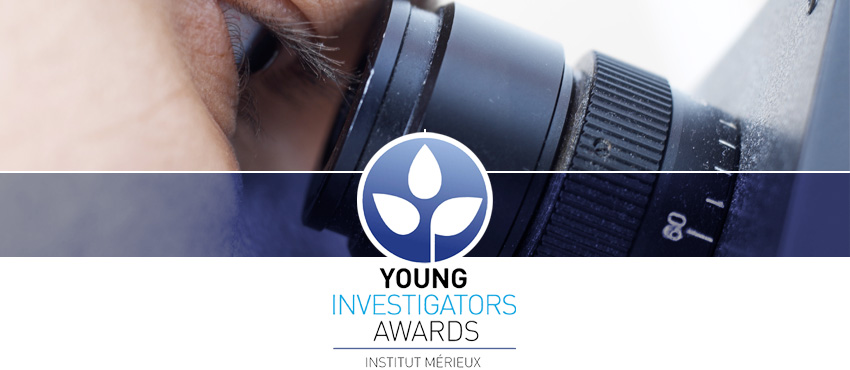 L'Institut Mérieux s'engage à soutenir la recherche sur des enjeux de santé publique de portée mondiale. C'est pourquoi il a créé les Young Investigators Awards, un programme destiné à récompenser des chercheurs et investigateurs prometteurs, originaires à la fois de pays à revenus élevés, moyens ou faibles. Ces prix encouragent en premier lieu les équipes travaillant sur des sujets en lien avec la résistance antimicrobienne, un problème majeur de santé publique dans le monde.
En raison de son succès, le programment a été récemment étendu à d'autres champs de recherche comme la nutrition & le microbiote, l'oncologie ou la sécurité alimentaire.
Chaque année, ces prix d'un montant de 10 000 euros sont décernés à de jeunes cliniciens ou biologistes avec moins de 15 ans d'expérience après leur doctorat, ayant contribué à des avancées significatives sur des priorités de santé publique. Les candidats sont identifiés par les sociétés savantes locales, partenaires de l'Institut Mérieux et de ses filiales. Ces sociétés savantes et le Conseil scientifique de l'Institut sélectionnent ensemble les lauréats. La remise du prix est organisée lors du colloque annuel de ces sociétés ou lors d'évènements régionaux ou nationaux.
Depuis le début du programme des Young Investigators Awards en 2012, près de 90 jeunes lauréats ont été récompensés dans le monde.
Derniers lauréats
Angela CHOW
Singapour
Antimicrobial resistance, infection prevention, infectious disease surveillance and emerging infectious diseases.
Satoshi NAKANO
Japon
National surveillance of pneumococcal infections in children, demonstration of the efficacy of pneumococcal vaccines, discovery of novel drug-resistant clones and their resistance mechanisms.
Kageto YAMADA
Japon
Research on antimicrobial resistance of some bacteria causing otitis and diarrhea and development of innovative rapid tests for SARS-CoV2.

86
lauréats depuis 2012


dans
5
domaines de recherche
---
Les YOUNG INVESTIGATORS AWARDS à travers le monde